Kindergarten Curriculum
The school engages in a balanced literacy program which includes Language Arts, Math, Science, Social Studies, World Languages, Art, Music, Computers and Physical Education.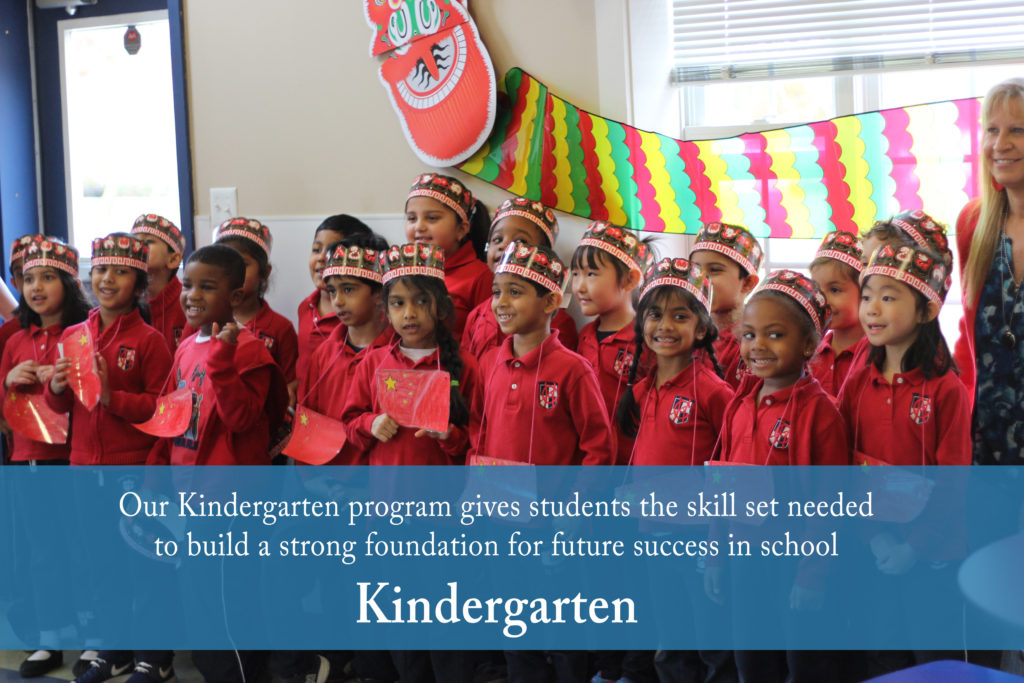 Pre-Reading Skill Development
There are eight components of balanced literacy that is implemented at the Kindergarten level. They include progressive reading activities that begin with Read Aloud activities initiated by the teacher, shared reading activities, guided reading and finally independent reading. Teachers will also engage in literacy practices that develop the student's phonemic awareness which are critical to the reading abilities of a child, phonics or the letter and sound relationship or the gramophonic connections.
Our Language Arts program includes language, reading and writing. The children receive instruction in phonemic awareness and phonics. They learn the relationship between letters and their sounds and strategies to help decode new words. "Guided Reading" provides opportunities for the teacher to closely match students with appropriate text and to devote time with each student.
Writing is practiced in journals and in our writing workbooks. Students begin using inventive spelling which develops into real spelling. Our Open Court curriculum teaches recognition of rhyming words, word families, short and long vowel words, single and blended consonants, punctuation, the recognition of sight words, and simple sentences. Listening and reading comprehension is intensified by the reading and listening taped stories found within this curriculum as well as in Listening Centers and through working independently in our workbooks. Sight Word Rings also enhance our reading and writing program. Listening and speaking strategies are taught through oral communication. Between daily participation in class, Student Star Week per child, Poetry Day and so many more opportunities, Kindergarten students continue to have first- hand experience in public speaking. Every year we participate in the "Book It" program to promote reading readiness and literacy.
HANDWRITING –
Fine motor skills are worked on daily. Students are given workbooks to follow detailed instruction in penmanship. Students are made to check their letter, word, and sentence skills after new lessons. Letters are checked for correct start, steps, and bumping the lines. Words are checked for correct size, placement, and closeness. Sentences are checked for correct capitalization, word spacing, and punctuation.
The handwriting instruction follows these three developmental stages:
Imitation: The teacher demonstrates the letter formation. The child imitates the teachers.
Copying: Children are asked to copy a model of a practice word by looking at the word.
Independent Writing: Children are asked to write a word without demonstration and without a model. They have to write from memory.
WRITING WORKSHOP –
The Writing skills of a Kindergarten child go through the stages of spelling development, understanding phonetics and finally making the gramophonic connections to write simple words that are spelled correctly. The writing program includes modeled writing, writing with inventive spelling, guided writing and finally independent writing. Students maintain journals to write on specific topics using descriptive details and at the same time they are inspired to enhance creativity through expression.
Student expectations at end of Kindergarten include to:
Develop a comfortable and efficient pencil grip( tripod or quadripod).
Form letters correctly
Spell familiar common words accurately, drawing on sight vocabulary.
Use knowledge of sounds to write simple regular words, and to attempt other words.
Compose and write a simple sentence, with a capital letter and a period.
Write labels, captions, lists, questions and instructions for a purpose.
Make simple storybooks and information texts, with sentences to caption pictures.
Write a sequence of sentences retelling a familiar story or recounting an experience.
Locate information and record answers to questions(e.g. lists and charts).
MATH –
Kindergarten – Students use a combination of McGraw Hill's Kindergarten(first half of the year) and Grade 1 curriculum (2nd half of the year) to learn basic math skills. Students have workbooks to practice what they learn at school. They will learn to count, read and write numbers, do simple number patterns and sequences, understand estimations, learn addition and subtraction. Student expectations include – the ability to recite and write numbers, perform basic addition and subtraction, to recognize patterns and sequences.
SCIENCE –
The science curriculum focuses on developing the science inquiry skills of the students and a lifelong
understanding of science concepts.
The kindergarten curriculum includes the following –
Life Sciences – Plants and Animals
Earth Sciences – Our earth, home, weather and sky
Physical Sciences – Exploring matter
SOCIAL STUDIES –
curriculum involves dynamic lessons that help the children understand about living in a community.
The Social Studies workbooks, monthly themes, and weekly magazines focus on the development of the child as an individual as well as a member of a family, school, community, and world. The children learn about holidays, geography and current events. Skill development includes, the interpretation and application of maps, graphs, charts, and other social studies tools.
COMPUTERS (once a week) –
Students visit the computer lab once a week for group lessons in different pre-reading and reading programs and to practice basic math skills that include matching numbers to objects, computation skills viz., addition, subtraction, identifying patterns and sequences.
WORLD LANGUAGES – SPANISH, FRENCH, or ARABIC (once a week) –
The objective is to have fun learning Spanish and enjoy the richness of its culture. Children will be able to develop good listening skills through music, songs, dance, mimes, nursery rhymes, stories and colorful visual aids. The listening skill will allow them to familiarize and feel sounds of the language and consequently encourage them to speak with confidence.
ART (once a week) –
Students enjoy visiting the art studio once a week and experiment with different art media. Students indulge their imagination to draw scenes, objects and people. The art education is thematic and incorporates the holidays and celebrations of all cultures in the form of arts and crafts.
MUSIC (once a week) –
The music curriculum for Kindergarten tries to balance active learning, which combines the feeling (affective) and reasoning (cognitive) aspects of the child's development. In the first semester (September – December) kindergarteners learn to play the glockenspiel and in the last semester (January-June) kindergarteners learn to play the recorder. Students play simple patterns and songs on their instruments. Dancing expressively to music gives children the practice they need to coordinate their body movements to the sound of music. This kind of musical play not only improves musicianship, but physical coordination as well. Children learn melodic notation and identify pitches such as the C, A, and D notes on the treble clef, plus rhythmic notation. They also learn to identify a range of orchestra instruments and their sound qualities, while also gaining an early awareness and knowledge of composers and masterworks in Western arts tradition. Authentic percussion, string, pre-keyboard, and woodwind instruments expose children to the many choices for future musical study, and at the same time provide them with the opportunity to musically succeed before taking on more formal instruction.
PHYSICAL EDUCATION –
Sportsmanship – students will continue to learn the meaning of sportsmanship, to be gracious in winning and losing and to respect their opponents and officials.
Teamwork – students will learn to play as a team member, learn to work together towards a common goal and be composed & respectful at all times.