Middle School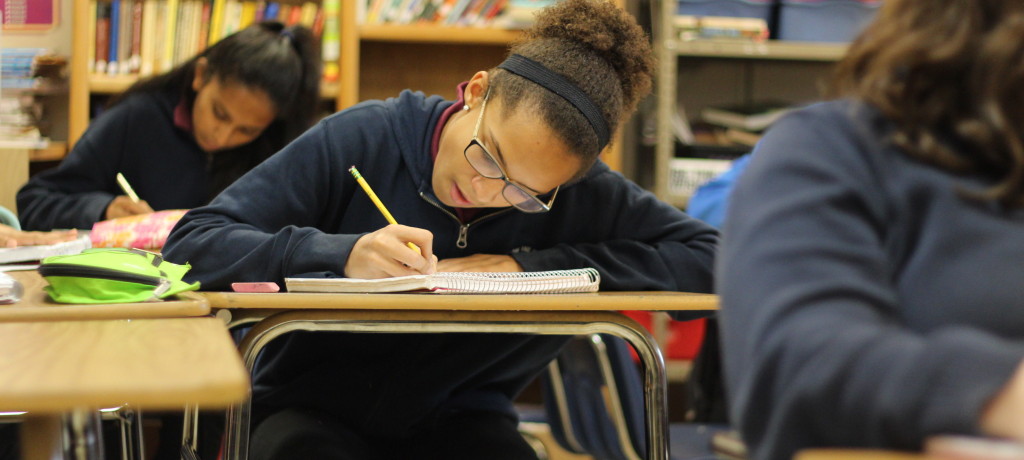 Cedar Hill Prep Middle School Education – Interactive, Intimate, Engaging, Empowering
CHP middle school is geared towards providing students with a strong foundation in academics and social skills, such that they excel in high school and develop positive social interactions. Research at Harvard College also suggests that the best ways to have students internalize positive social and emotional behaviors are to have them learn in settings where social and emotional skills are directly taught.
The CHP middle school program is successful because we address the overall needs of each child – emotionally and academically in a school setting. In return, we have high expectations of each student regarding their effort, commitment, consistency, and discipline. Also, the school insists on engaging the parent in a collaborative setting, to foster a consistent involvement in the academic and character development of the child. We accomplish all of the above by providing a nurturing environment, a sense of community for the family, an educational plan that fits, supports, engages and energizes each student.
Mission for Middle School
Academic Achievement
We at Cedar Hill Prep School believe that our educational climate develops the students towards discipline, synthesis, and creativity of their mind.
Student Character Development/Social skill development that includes
Global Awareness – concerted effort to understand, embrace and celebrate diverse regions, cultures, religions, and lifestyles.
Civic Literacy – Exercise the rights and obligations of citizenship at the school level. The school operates a civic system that makes all students members of structured units. Opportunities are provided on a weekly basis for the students to compete, share, mentor and arbitrate with each other by participating in the system. It further enables the students to extrapolate and understand governmental and legal processes as it applies in the real world.
Social and Cross-Cultural Skills – Communication Skills -Interact effectively with others. Know when it is appropriate to listen and when to speak. Conduct themselves in a respectable, professional manner.
Personal Growth – Study Skills – Set goals with tangible and intangible success criteria. Be accountable for results. Utilize your time and manage workload efficiently. Work Independently. Monitor, define, prioritize and complete tasks without direct oversight.
Be Self-directed Learners – with the help of student-led conferences. Students are encouraged to reflect on their performance and take their learning further beyond basic mastery of skills and/or curriculum to explore and expand. Demonstrate a commitment to learning as a lifelong process. Reflect critically on past experiences in order to implement a strategy for future progress.
Academic Framework
Our rigorous curriculum is designed with the depth required to spur our students towards mastery in:
Instructional Team and Methodology
As we all know, teaching is one of the most common, yet most complex human activity. There are tangible and intangible characteristics that contribute towards its effectiveness. Teacher influence goes far beyond a student's academic performance. They foster student motivation, perseverance, and citizenship.
CHP teachers are given a curriculum framework that is broad and precise. It includes the goals for each grade in each subject and student expectations/ outcomes at the end of each grade. Teachers are given resources and teaching aids to reach the diverse learner.
Teachers provide students with multiple means of representation, engagement, and expression of the curriculum. This includes using Smartboards, project works, dramatization, discussions, blogs and field trips. According to Rief (1993), students retain
10 percent of what they read
20 percent of what they hear
30 percent of what they see
50 percent of what they see and hear
70 percent of what they say
90 percent of what they say and do
Student Expectations/Goals
Student Academic Expectations/goals are broadly divided by Grade and defined by subject matter. This include:
Language Arts – Mechanics, Reading and Writing expectations
Speaking and Listening Skills
Math – Calculations, mental Skills, and problem-solving skills
Science and Social Studies – content is driven by grade and tested for comprehension, writing skills, teamwork, and project management.
Foreign Language – acquire the knowledge of a second language.
Student Assessment
The objective is to evaluate the student on a balanced portfolio of measures that will assess the effectiveness of the curriculum in accomplishing student competency in each subject. Student performance is measured in the following categories:
Class work
Assignments and projects
Homework
Quarterly tests
Standardized testing
There is constant feedback on student performance and everyday learning outcomes. The results are analyzed at the end of the year to make curriculum and instructional enhancements/changes.
Interested in learning more about our school?