Pre-Kindergarten Curriculum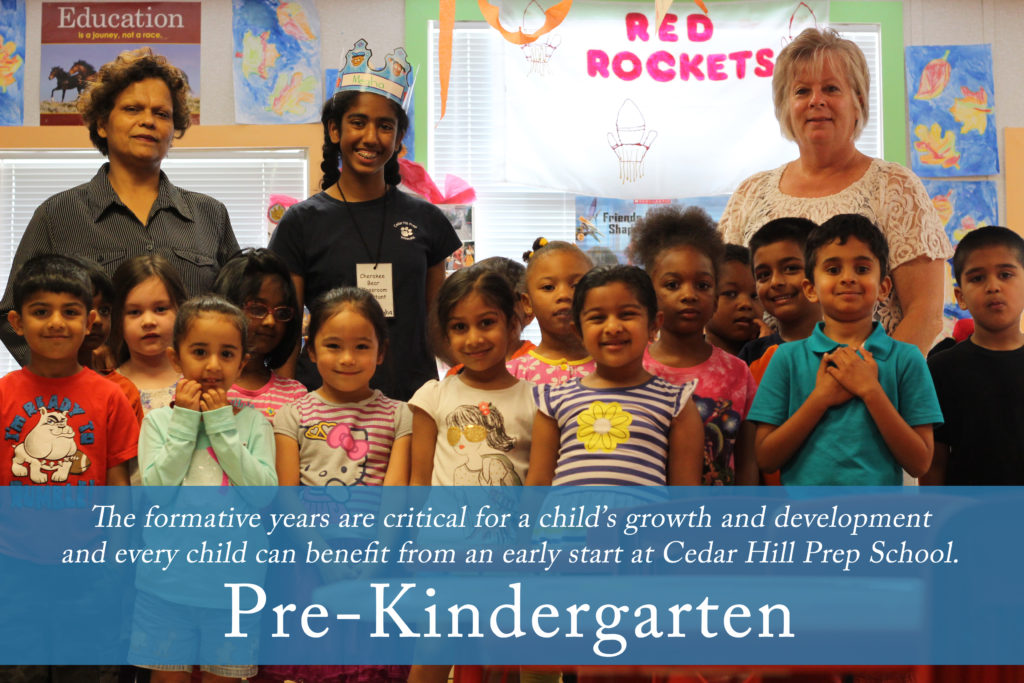 The Pre-Kindergarten curriculum is primarily focused on developing the reading and writing skills of the students and preparing the child for Kindergarten. Social Studies and Science are integrated into the language arts curriculum.
Overall School Academic Framework – Pre-Kindergarten
Language Arts – Pre-reading skills, phonemic awareness and alphabet recognition
Handwriting
Math
World Languages
Physical Education
Music
Art
LANGUAGE ARTS
Oral Language Development –
this is the process of communicating through the spoken word. Talk is one of the foundation blocks for all areas of learning. Language acquisition and language development skills interact and influence each other. Speaking, listening, reading and writing are all integrated through all the content areas of the Junior Kindergarten curriculum.
Vocabulary Development –
Research suggests that vocabulary is enormously important to children's development, especially in reading. Research clearly indicates that children with larger vocabularies have higher school achievement in general (Smith, 1941, cited in Beck, McKeown, and Kucan, 2002) and higher reading achievement in particular (Anderson and Freebody, 1981; Graves, 1986; Stahl, 1998). In fact, people with larger vocabularies even have higher IQs (Bell, Lassiter, Matthews, and Hutchinson, 2001; Hodapp, and Gerken, 1999)! Fortunately, a child's vocabulary is not predestined. Rather, teachers can have a real impact on children's vocabulary knowledge. Research shows that teachers can do things that significantly increase children's vocabularies (Baumann, Kame'enui, and Ash, 2003; Blachowicz and Fisher, 2000; National Reading Panel, 2000; Stahl and Fairbanks,1986), and by doing so children's reading comprehension will also improve (National Reading Panel, 2000; Stahl, 1998).
Read Aloud Activities –
Studies indicate that children do learn words from books read aloud to them (e.g., Elley, 1989). The book series used in the Junior Kindergarten program includes fiction and non-fiction. The books present engaging fiction and nonfiction text that feature important concepts and vocabulary. The imaginative illustrations further encourage exploration and discussion, prompting children to read more. Children read the books using their sight words and patterns.
The curriculum features classic rhymes, songs, and fingerplay that offer new language experiences so children become aware of new words. Oral Language Picture Cards are included to improve knowledge of content-related vocabulary.
Vocabulary includes words in key knowledge areas—such as animals, tools, occupations—that help children to better understand the world around them. Words are also chosen that would help children better express their thoughts and ideas and their ability to work with the language.
Children have an opportunity to work with both the sight words and the oral language vocabulary in many contexts. The sight words presented are reviewed in subsequent books so that children receive multiple exposures. The oral language vocabulary is used in different contexts throughout the weekly lesson plan: in songs and fingerplay, book discussions, oral language exercises, and projects.
Pre-reading skills
The Cedar Hill Prep School Junior Kindergarten program teaches students the principles of Phonemic Awareness and Alphabet recognition, so that all children can learn to love reading. To develop Phonemic Awareness, this program: (1) incorporates nursery rhymes; (2) ties instruction to children names; (3) teaches children to use the position of their mouths, to recognize sounds and letter names; (4) encourages students to generate word segments; (5) instructs children to isolate, delete, combine, and manipulate sounds in the eight ways necessary to master phonemic awareness; (6) asks students to pick out words in sentences that begin with a specific letter being taught; (7) helps children develop
letter sounds and letter names simultaneously; (8) helps children make connections between sounds in a sentence; (9) teaches rhyming sounds using picture cards and songs; and, (10) infuses instruction with charts, posters, small books, CDs, games and numerous writing experiences.
In addition students are engaged by multiple methods to develop alphabet recognition which includes charts, posters, pointing to letters, ABC books, letter cards, writing letters, teaching features of letters, molding letters with clay, using the first letter and context clues to determine a word's meaning, reading with a teacher, following along as a teacher reads, singing and using many manipulative and writing experiences. There is also direct teacher instruction. This teaching environment has proven that children can by 4 to 5 years old, develop the necessary skills to become successful readers and experience great pleasure in becoming stronger readers.
Pre-writing skills
Pre-kindergartners benefit from experiences that support the development of fine motor skills in the hands and fingers. Children should have strength and dexterity in their hands and fingers before being asked to manipulate a pencil on paper. Working on dexterity and strength first can eliminate the development of an inappropriate pencil grasp, which is becoming more commonplace as young children are engaged in writing experiences before their hands are ready.
Students are given workbooks to follow detailed instruction in penmanship. Students are made to check their letter, word, and sentence skills after new lessons. Letters are checked for correct start, steps, and bumping the lines. Words are checked for correct size, placement, and closeness. Sentences are checked for correct capitalization, word spacing, and punctuation.
The handwriting instruction follows these three developmental stages:
Imitation: The teacher demonstrates the letter formation. The child imitates the teachers.
Copying: Children are asked to copy a model of a practice word by looking at the word.
Independent Writing: Children are asked to write a word without demonstration and without a model. They have to write from memory.
Math –
Students use the popular Touch Math Kindergarten curriculum to learn how to write numbers, and understand their representation. Students will be able to do one to one correspondence, simple patterns, simple addition using manipulative materials (counters) and recognize geometric shapes.
Computers( once a week)
Students use the computer to learn basic alphabet and number recognition, listen to stories, word recognition.
World Languages – SPANISH (once a week)
The objective is to have fun learning Spanish and enjoy the richness of its culture. Children will be able to develop good listening skills through music, songs, dance, mimes, nursery rhymes, stories and colorful visual aids. The listening skill will allow them to familiarize and feel sounds of the language and consequently encourage them to speak with confidence.
Art (once a week)
Students will enjoy visiting the art studio once a week and use different art media. Students will indulge their imagination to draw scenes, objects and people. The art education is thematic and incorporates the holidays and celebrations of all cultures in the form of arts and crafts.
Fine Motor Skill development
Students will learn to color within the lines, hold a scissor and cut shapes, and most importantly have the correct hold for a writing tool to facilitate writing.
MUSIC
The music classes use a developmentally appropriate music curriculum that celebrates the importance of music, introduces music's basic "language", and nurtures those rhythmic, pattern loving musical seeds that are so naturally planted in a child's brain. Music stimulates learning, lowers stress, and advances memory, attention, and brain development.
There is a new theme each month. Students use tapping, clacking and rhythm instruments that ring, such as rhythm sticks, one-bell jingles, egg shakers, drums and set it to music in order to improve hand-eye coordination and to strengthen fine motor skills. Storytime is also incorporated into the music classes. Stories during story time are carefully crafted to support the musical concepts that are highlighted in the lessons, while also encouraging the development of early literacy and other skills such as listening, sequencing, empathy, and anticipation. Students gather in a group to sing and play which is a positive way to lower inhibitions, build self-esteem, and foster a sense of belonging. Group learning also helps children develop social skills such as taking turns and cooperation. The curriculum encourages focused listening with music to improve skills in following directions. Music is combined with movement and that creates new learning pathways in the brain.
Physical Education
The goals of the pre- elementary school physical education program are
Sportsmanship – students will continue to learn the meaning of sportsmanship, to be gracious in winning and losing and to respect their opponents and officials.
Teamwork – students will learn to play as a team member, learn to work together towards a common goal and be composed & respectful at all times.