Theater Arts / Drama Club
The Department of Theatre and Drama
There are many opportunities for students to participate in theatre and drama at Cedar Hill Prep. Any student or community member (yes, adults too!) can audition for Theatre and Drama Department Productions. However, some opportunities, including theatre trips, the one act play festival, and other workshops are open only for those students who are members of the Drama Club. Members of the Drama Club may be asked to support other productions that take place at the school on an "as-needed" basis. The commitment is for half of the academic year for elementary students and the whole year for middle school students. Drama Club meets once a week after school (on average) and more before productions.
The Theatre and Drama department strives to introduce students to many kinds of theatre art including plays, musicals, cabaret, performance art, opera, and improvisation. It is our goal to help build students' theatrical/performance vocabulary and to expose them to many genres of performance.
2016-2017 Opportunities
Fall Production: Pedro and the War – Working closely with the music department, the Theatre and Drama Department will produce Pedro and the War, by María Inés Falconi; Translated and adapted by Manon van de Water and Andy Wiginton. The play is a "cantata" and is set to music that will be devised by the students and Bill Condit. The play transports audiences to a world where young people negotiate with conflict as they grow up. When the village learns that their country is at war, the villagers first continue with their daily routines in spite of the warplanes passing overhead. The children play fútbol, pull ponytails, attend school, pick tomates and help their parents raise ovejas (sheep).
After a bombing raid that destroys the only school, a frightened Pedro finds himself trapped in the rubble with an elderly neighbor, Don José. Through a tender exchange of stories with Don José, Pedro learns about the resiliency of the human spirit and the power of imagination to restore and sustain humanity even in times of crisis. The play artistically peppers in Spanish language from a variety of countries and pan-Latin traditions in order to establish a realistic, yet highly theatrical setting where kids and adults alike learn that even in the horrors of war, the human imagination is a powerful tool for both physical and psychological survival. Auditions will be for 18 speaking roles. 3 Men, 1 Woman, up to 18 either gender (doubling possible). Looking for at least 2 adults to participate in performance roles. Auditions will occur the first week of school.
Drama Club:
All students/parents are eligible to participate in theatre & drama after school by joining the Drama Club. Students do not need to be in Drama Club to participate in productions (except K-2 students). Drama Club will work to support productions with experienced players and crew. Students who participate in Drama Club will participate in all Theatre and Drama Department activities at Cedar Hill Prep.
Through interdisciplinary training in all aspects of the theatrical form, students who participate in drama club gain not only important performance experience, but also learn to work as a team, learn to appreciate and discuss theatre critically, as well as to hone their own artistic/creative voice. Being in the Drama Club is fun, builds self-confidence and social awareness as well as introduces students to the many facets of performance production.
The Drama Club is comprised of four sections that meet and rehearse individually afterschool and come together to create large "all-school" productions at the end of term.
Drama Club K-2: With an emphasis on working together, process drama, and improvisation, students learn theatrical fundamentals vis-à- vis theatre games, song and dance. Production roles may include chorus work, and other ensemble characters in school productions.
 K-2 Students may not audition for larger roles unless they are members of drama club.
 Session A: September – December
 Session B: January- June
Drama Club 3-5: With an emphasis on public speaking, basic acting techniques and improvisation; students expand their knowledge of theatrical fundamentals vis-à- vis theatre games, skits, and short scenes.
Production roles may include speaking parts, ensemble work, and principal characters in departmental productions.
 Session A: September – December
 Session B: January- June
Drama Club 6-8: With an emphasis on production, middle school students will learn the various techniques of stagecraft including set and costume design, acting, directing and playwriting. In addition to participation in all school productions, middle school students will write, perform and produce a one-act play festival to be performed for the lower school and the public in February.
 Year long commitment
Drama Boosters: Committed stage moms and dads come together once a month to discuss how they can support the drama club and theatre and drama department. The Drama Boosters meet monthly to support the goals of the Theatre and Drama Department and the Drama Club. Drama boosters assist with building/sewing for productions, marketing, fundraising, and other logistical support (including supervision during productions). Parents who chair Booster committees pay a reduced production participation fee for their child(ren).
"Coming Home:" A Holiday Cabaret
Combining the traditional CHP Holiday Sing with the newly formed Theatre and Drama Department, this joint fundraising celebration is an opportunity for members of the CHP to share their musical talents in celebration of the holiday season. Songs may come from any holiday tradition. This dinner theatre cabaret will take place at the end of the year, just before holiday break. Anyone may audition with a song to contribute to the evening's entertainment.
Drama club and chorus members will provide chorus and crew while the music department will feature instrumental solos and performance groups. With a limited rehearsal schedule and only one performance, this is a great opportunity to perform without much rehearsal time. Start practicing your holiday favorite now!
Shakesperience at Ryder University
Students at Cedar Hill Prep embrace the Theater Arts. Since 2011, middle school students from CHP have prepared for and participated in Rider University's Shakesperience, a festival open to middle and high schools in New Jersey with a love for the Bard. Students participating in the school's Shakespeare Club learn about the prose of Shakespeare and produce a 20-30 minute Shakespearean play. Students audition for parts, rehearse, and in May, perform the play for the school and at Rider University.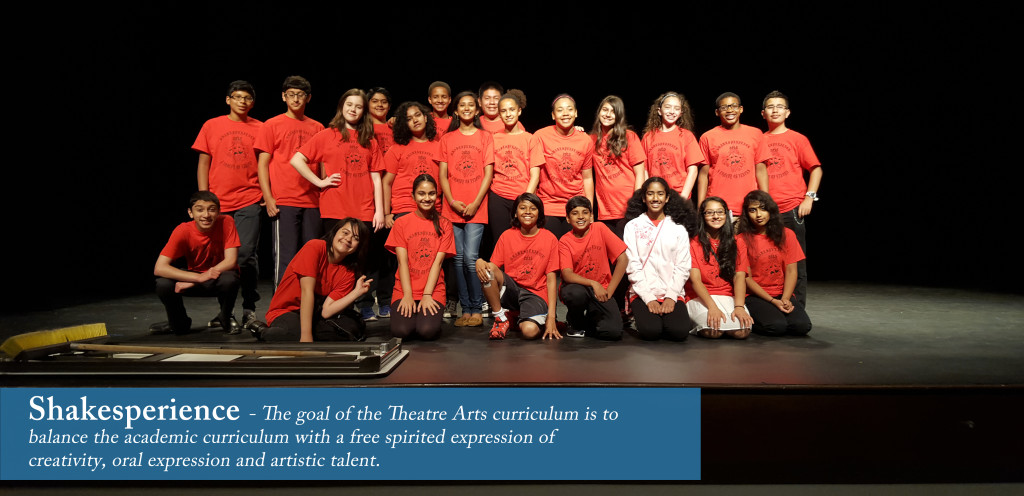 The goal of the Theatre Arts curriculum is to balance the academic curriculum with a free spirited expression of creativity, oral expression and artistic talent. The basics of theatre, the history of theatre, and the art of stage performance, as well as the behind-the-scenes aspects of a play or musical are taught. By course end, the students will have learned about the history of theatre, the different genres of theatre through hands-on experience, the arts of stage make-up and costuming, and how to create a set design for a production, as well as basic dramatic and musical performance. They will learn about dramatic performance through acting, improvisation, pantomime, performing monologues and directing brief one-act plays They will learn about musical theatre performance and the history of musical theatre, as well as how to "act through a song" and how to prepare for an audition. They will learn about the human voice and how it is used in performance as a "stage voice", and how it can be used to enhance their personal presentation. The students will create a personal theatre journal which will include handouts and personal reflections, as well as class notes.
Students don't necessarily have to perform to be in the club. Students assisted with rehearsals, acted as understudies, created props and costumes, and provided support as stage crew for the performance.