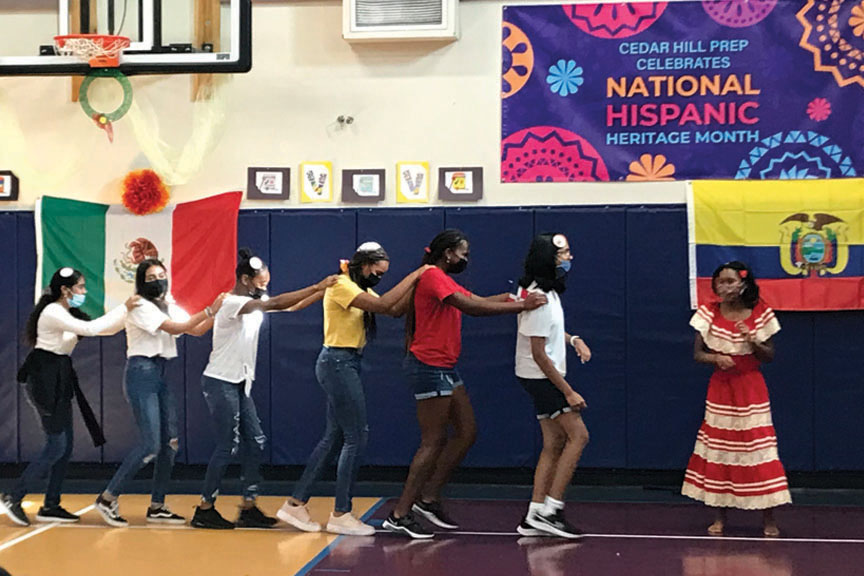 Cedar Hill Prep talent was once again on display as preschool to grade 8 students celebrated Hispanic Heritage Month through song, poetry, dance, and drama. CHP's little biculturals started the celebration with their resounding recitation of the pledge of allegiance in Spanish– "El Prometo de lealtad."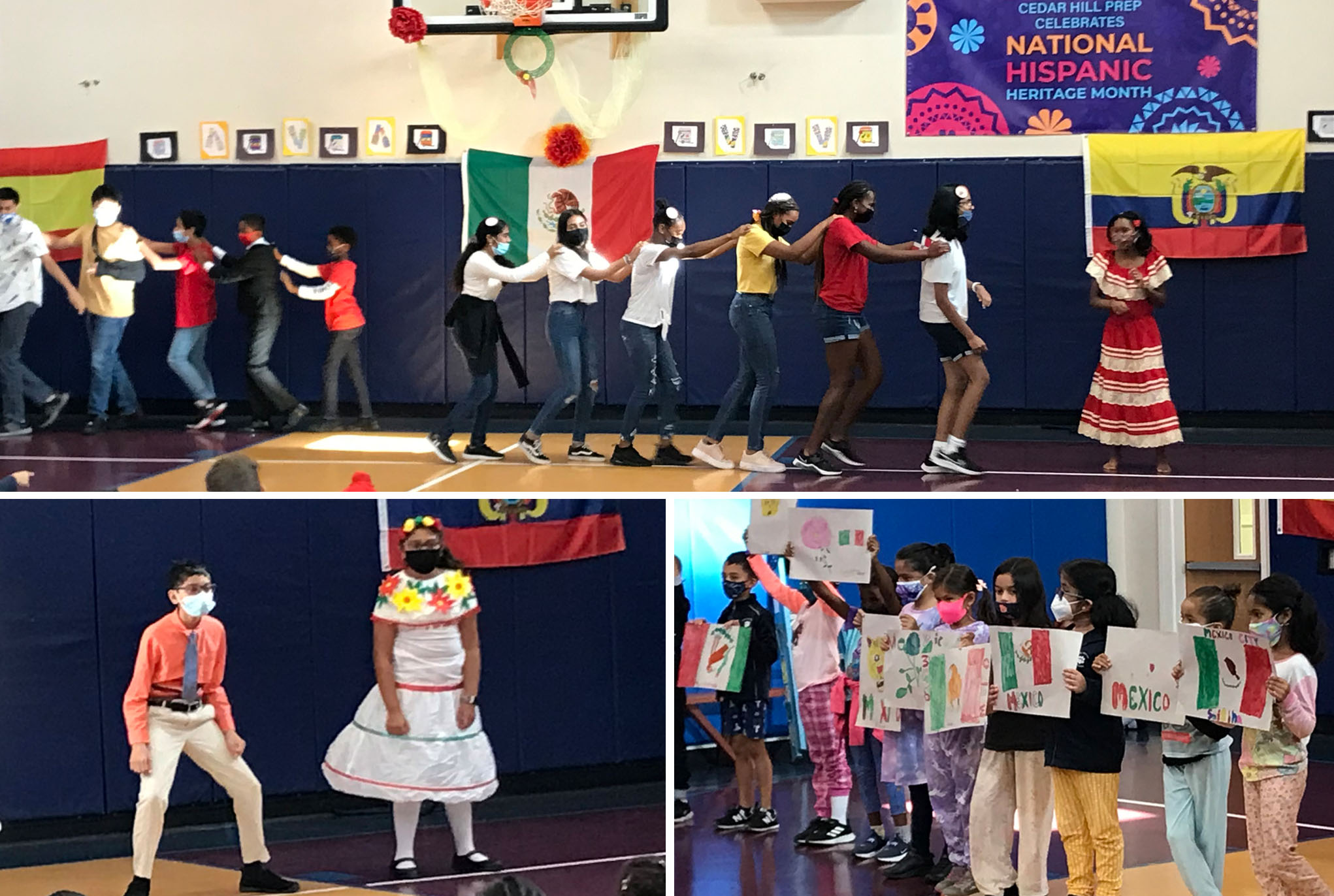 The second graders skillfully showed off their sign language skills by signing the pledge led by lower school Spanish teacher, Señora Vasquez. Lowerschool beamed with pride as they wowed us with their Honduran, Mexican, and Chilean artwork. They entertained us as they moved to the rhythm of the classic, "La Bamba" song. Grade 3 got us dancing along to Spanish action songs by popular kids musician and guitarist, Patty Shukla.
Our 5th graders answered the big question in their play, "What is Hispanic Heritage Month?" Zayd Ahmed played the role of President Ronald Reagan, giving the audience an excerpt of the President's speech in which he declared September 15th to October 15th Hispanic Heritage Month on September 13th, 1988. Zayd was received with applause and laughter as Principal Seeley gave him a step ladder so that his head would reach above the podium where he stood presidentially dressed to deliver the speech. He was backed by his classmates, half of whom wore business attire to represent the politicians who were present at the speech. The other half of the class depicted prominent Hispanics, and Hispanic-Americans who have impacted all facets of American life, ranging from Frida Khalo, world renowned Mexican artist, to Judge Sonia Sotomayor, the first Hispanic American female to serve on the Supreme Court.
Our adorable sixth graders graced the stage representing Mexico in their red, green, and white. The boys dressed sharply in black and white with Mexican colored cummerbunds handmade by MS Science Teacher Denise Galiano. The girls wore flowing white skirts accessorized with red, white, and green ribbons and matching flower headbands designed by CHP Director Nandini Menon and her team of fashion designers: Ms. Priya, Ms. Donna, Ms. DJ, and Ms. Ellen who left their official duties to beautify our Chiqui Gua dancers for this special event.
Grade 7 orientated us to prominent Hispanic foods and were successful in advocating that the whole school gets a taste of empanadas delivered to their classroom at lunchtime. Thanks to Sabrosita's Catering for delivering over 200 empanadas to our students. Our 7th graders also celebrated with poetry depicting Latino pride and accomplishments. In the grand finale, grade 8 converted the venue to a dance room as they danced to "Let's Celebrate" by Nickelodeon and pulled everyone on stage to join the celebration.
Hopefully this marks the beginning of CHP's annual Spanish Festival to be celebrated during Hispanic Heritage Month each year. As we saw this year, it was an enjoyable and informative event that is a perfect occasion to harness unity in the school community, an appreciation for Hispanic culture and heritage, and to embrace diversity and global mindedness.