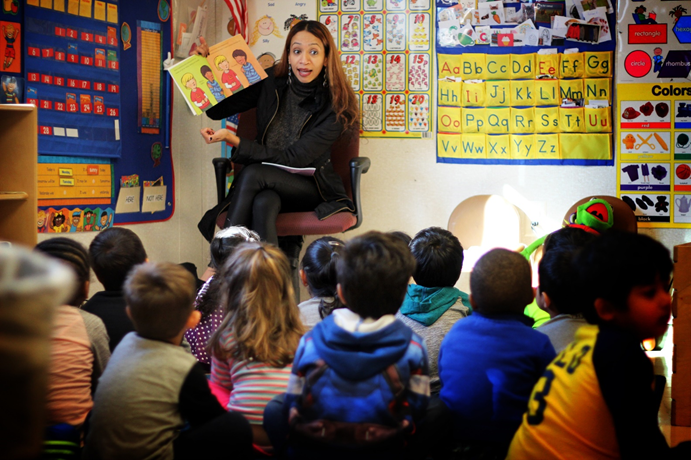 Has your child ever come to you saying, "I don't have any friends at school!" or "Nobody likes me!"?
Perhaps your child cannot (or will not) articulate her worries and concerns about her social life but has become more moody, self-critical, and withdrawn, or doesn't want to go to school in the morning. These can all be signs that your child might have trouble making and keeping friends.
As a parent at Cedar Hill Prep, you already know that, both in and outside of our classrooms, no child gets left behind. Teachers are always on the lookout and ready to step in if they see a child is struggling to be part of a social group or a circle of friends.
Our community-based approach is designed to empower and nurture the entire child. In my role as Guidance Counselor and Character Education Teacher, I often get called upon when a child struggles. Today, I want to share some tips with you as to how you can help your child make new friends and deepen the bonds of friendship with kids they already get along with.
Making Friends Was Easier When We Were Children
Think back to your childhood and the relationships you have with your childhood friends today. My friend from 7th grade is still my best friend today! Chances are, you still have close friends that you grew up with as well.
When we were little, our generation used to bike around town, visit friends, build tree houses, or explore the neighborhood together. There was so much unstructured playtime, and there were amazing opportunities to forge deep bonds of friendship.
Most Households Have Two Working Parents
In the span of just a few decades, the way family life and childhood daily routines are organized has completely changed.
Compared to 1970, the number of households in which both parents work full-time has increased from 31% to 46%. As a recent Pew Research Center Social Trends Study revealed, 86% of mothers and 81% of fathers always feel rushed in their family lives, and 39% of full-time employed mothers feel they spend too little time with their children.
Most full-time employed parents try to arrange their schedules so that someone is there to pick up the kids. But oftentimes, children have to wait for one or both parents to come home at night.
And it doesn't stop there. Today's busy parents have to catch up on chores, are exhausted from their day at work, or simply need to put dinner on the table once they are home. Often, the iPad or TV becomes the virtual babysitter.
Overscheduled Kids
But it is not only the parents who have busy schedules. Today's kids are constantly rushing between various structured and scheduled afterschool activities: gymnastics, soccer, piano lessons, dance class, art class, girl scouts, swimming, debate club — just to name a few.
And while your children are technically spending a lot of time with other kids in these activities, there is rarely any time to chit-chat, free-play, or give the tender buds of friendship the opportunity to blossom.
How can you help your child make real friendships?
As parents, we, of course, want to help our children excel, and thankfully there are many things you can do if your youngster is struggling to make friends. Here are some tips:
Spend some quality family time.This might seem obvious, but the importance of this cannot be overstated! A child needs to have at least one primary adult role model who he or she can communicate with and who is hands-on. While you might be busy during the work day, and having dinner together might not always be feasible, even snuggling with one another while reading a book together or having a special 30-minutes of alone time on the weekend will make a huge difference.
Always have open, two-way communication.Even as you drive your children from activity to activity, ask about their day. Allow them to openly talk about their experiences and feelings, and try to validate your children's feelings instead of judging them (e.g., "How does that make you feel when the kids say you are gross?"). Build up their self-confidence. A great book to read in this regard is How to Talk So Kids Will Listen & Listen So Kids Will Talk.
Put away your phone and be fully present.It happens to all of us. We say we are going to play "Kitchen" with our five-year-old, but as she is busy serving the wooden slice of toast and the pretend tea, our phones light up, notifying us that we have a new email. However tempting it is to just "quickly check this one email," try to give your child your full, undivided attention and be 100% present for those few precious minutes. It will be worth it.
Avoid overscheduling them.If you feel like you are always rushing to gymnastics, piano lessons or some other extracurricular activity, your child is not getting her homework and chores done, or she doesn't sleep enough, maybe it is time to cut down the number of activities she is doing.
Read books about making friends, clubs, and other friendship-related problems.No matter how much quality time you spend with your child as a parent, sometimes there will be problems in their social circle that are hard for children to understand and are better tackled through storytelling. Your child can empathize with the book's characters and see the world through their eyes. Visit your local library and ask for suggestions. One of my favorite book series for these issues are the Joy Berry books.
Give it time.With a new school year, there are new friends to be made and new challenges to be faced. Give your child time to adjust — at least until the beginning of January. If she or he is still having trouble by then, consider getting professional help.
Talk to your child's teachers.Your child's perceived reality might be different from what the teachers see every day, so it is important to let them know your concerns. The teachers at Cedar Hill Prep are trained to guide your child through difficult social situations. For example, they will encourage your child to play with different children once in a while or motivate them to partake in an activity in order to meet new kids.
Consider that learning disabilities or attention deficits might be the cause.In some cases, your child's inability to make new friends or to maintain longer friendships might be caused by certain learning and attention deficits. Talk to your child's teachers, Ms. Nan, or myself if you feel this could be the cause.
Get professional help.If, as a parent, you have exhausted all other options, there is always professional help. In my capacity as Guidance Counselor and Character Education Teacher, I help our students to overcome these problems. Often parents are afraid to seek professional help because they fear a stigma. But there is nothing to fear. After I meet with parents privately to discuss the matter, I work with the rest of the school staff to organize special group activities and play therapeutic games with many children so they can learn to socialize in a safe environment.
If you have any concerns or just want to discuss your child's special situation, please feel free to reach out to me at anytime. [include contact information]