{"slidestoshow":"4","slidestoscroll":1,"dots":"true","arrows":"false","autoplay":"true","autoplay_interval":3000,"speed":300,"loop":"true","lazyload":""}
Dress Code
Cedar Hill Preparatory Uniform at Lands End: Visit Site
Cedar Hill Prep students are expected to be neat, clean and dressed in uniform at all times unless given permission by the administration to be out of uniform. There are many positive reasons for a school dress code, including:
A respectful academic atmosphere where every student feels a sense of professional etiquette and arrives each morning ready to face the assignments of the day.


A good impression made on both peers, parents and teachers that showcases a sense of pride in their appearance and their role within our community.


A shared sense of community as all students recognize an aesthetic camaraderie among their peers.


Fewer potentially maladaptive or rebellious behaviors that may first be manifested through expression of clothing.


A lesson in boundaries, expectations, and responsibility that begins every day before the students even leave their home.

Additionally, a dress code can be greatly important to matters of student self-esteem and self-respect. Taking pride in the way they look is the first step toward taking pride and accountability in the work that our students do at CHP. We want all of our students to feel their very best and dressing for success is a crucial part of developing that confidence.
We have partnered with the clothing company Lands' End in order to offer our students and their families high quality clothing that is both durable and fashionable. While shoes can be purchased outside of the Lands' End options for wardrobe it is advisable that students wear comfortable shoes for staying active across our campus, both between classes and while outside.
All uniform shoes are no longer available from Lands End and now can be purchased from any store.
**Please Note Sweat Shirts, Sweaters, and Blazers must be purchased from Lands End**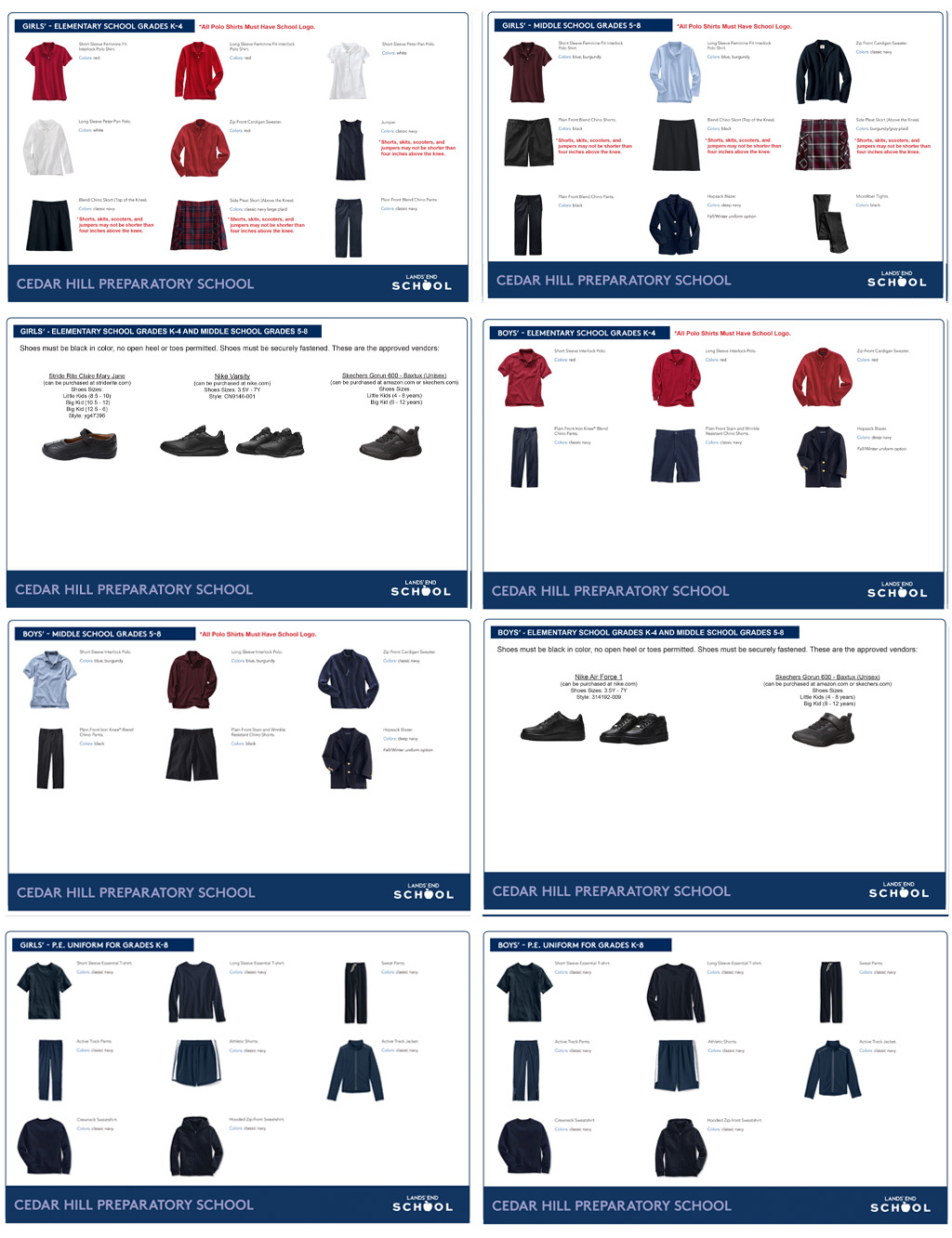 Preschool - Grade 8
New Parent Orientation / Meet and Greet
September 7
First Day of School
September 8
2022-2023 School Calendar
Discover Cedar Hill Prep School at our next open house or make an appointment today! Come and see why our students are in the top 10 percentile in the country! Contact us today at
 admissions@cedarhillprep.com or call: (732) 356 - 5400. Click Here to Register

If you cannot make it to the open house then please contact our Admissions Office to make an appointment today. We are actively taking applications and processing enrollment at this time.

Make an Appointment Today
Distance Should Not Keep You From a CHP Education. Cedar Hill Prep School offers different transportation options, in order to make the area's best education more easily accessible. CHP Transportation and Nonpublic School Transportation are the current available choices for families to explore. Without the concern of getting here, students can focus on all the ways they can excel once they have arrived.

Click Here to Learn More About Our Transportation
Read More Blogs