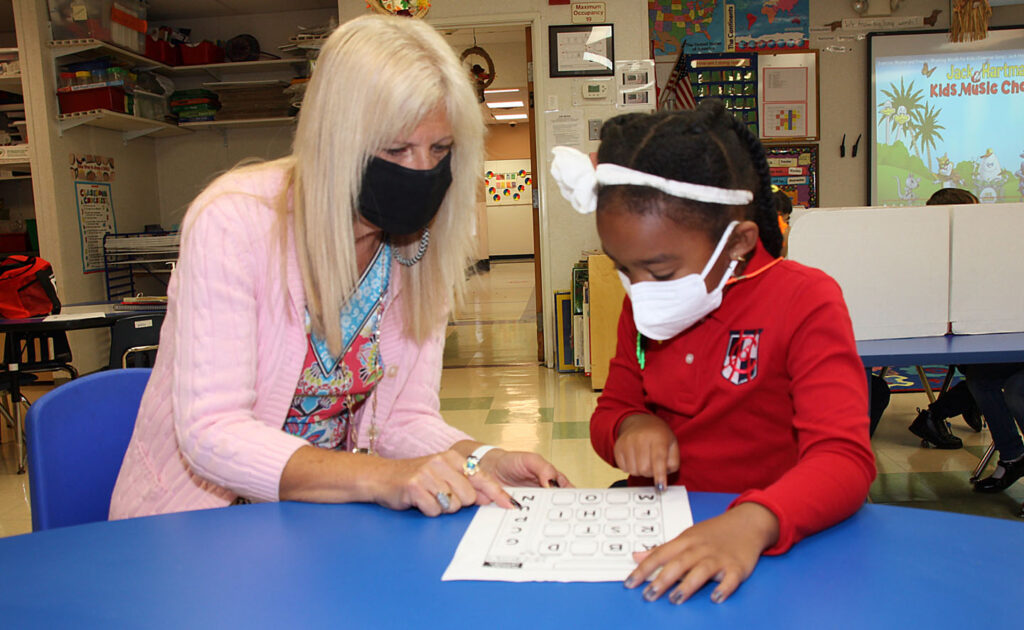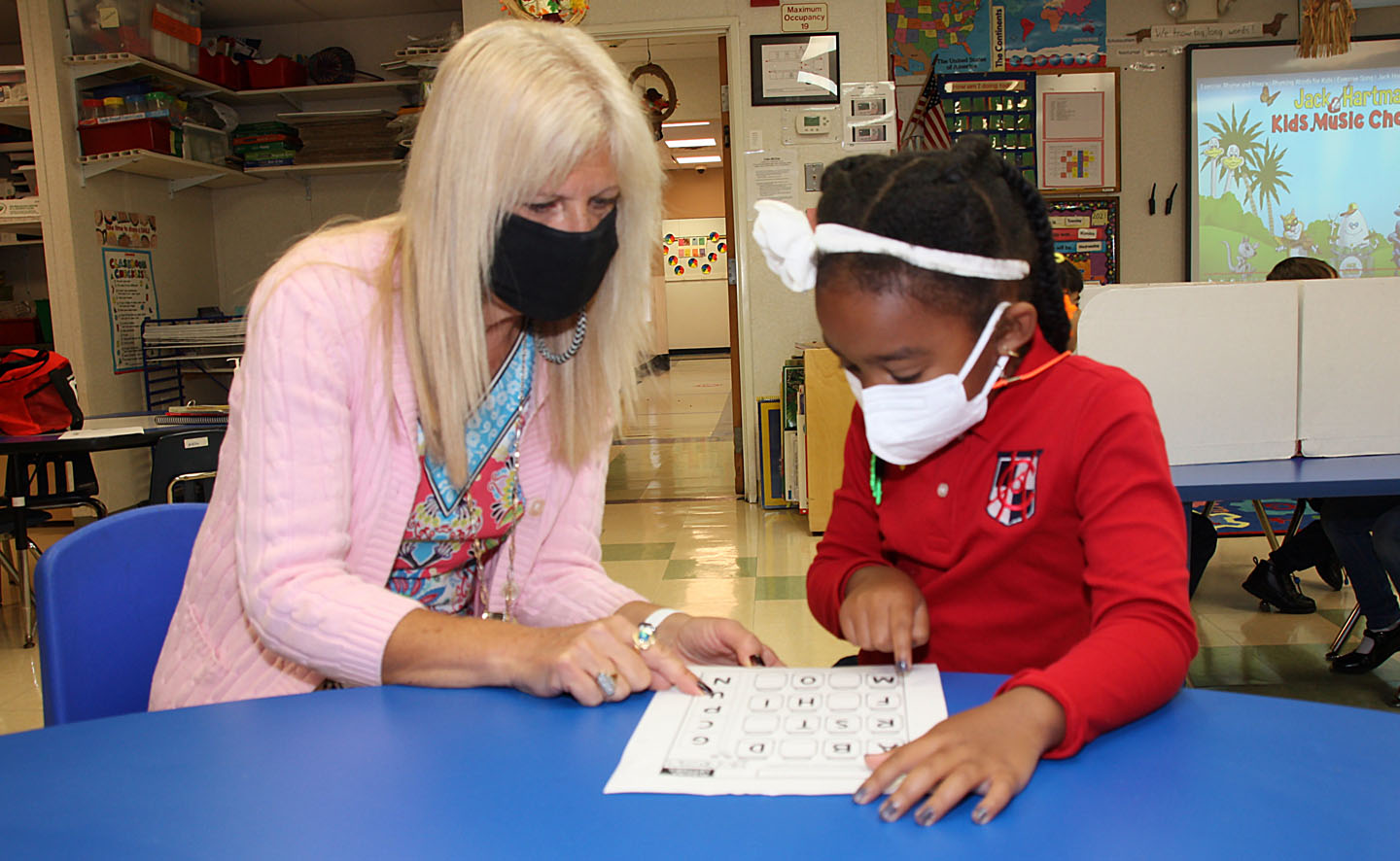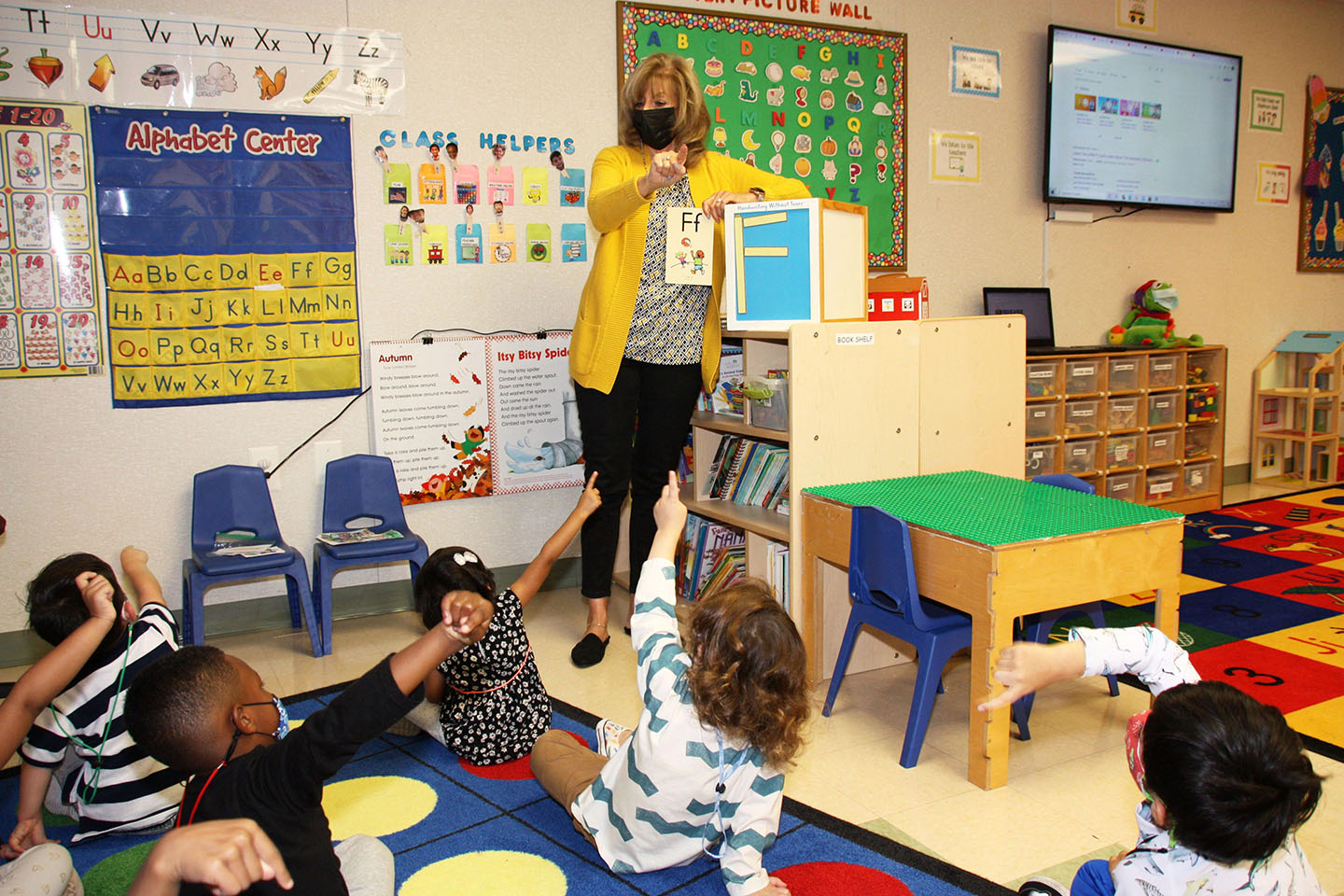 Here at Cedar Hill Prep we recognize that the public health challenges of the previous school year have created an educational gulf for many of the youngest members of our local community. The concerns of area parents have not gone unheeded and we are here to reassure you of not only the safety protocols in place on campus at CHP, but the excellent support and instruction of our deeply caring and highly experienced teachers awaiting every student returning to CHP this year or joining us for the first time. Our faculty remains as dedicated as ever to providing a foundation at the early education level that will serve our students for all the years to come.
CHP's Early Education team, composed of Preschool Teacher Karen Holstein, Pre-Kindergarten Teacher Maszarine Richardson, and Kindergarten Teachers Ruth Sulitzer and Emily Selner, have shared their insights into the ways that CHP has maintained a constructive, engaging, and highly interactive educational environment for our littlest students.
Among the important social and educational skills that our students are taught as a foundation for the path in front of them are a positive attitude regarding learning and school, as well as the ability to follow independent directions. Cooperation is another key lesson that is imparted during the Early Education program, as is a proficiency in self help skills. Our students also receive a strong foundation in associating letters with sounds and using this skill to form words and sentences. Additionally, a love for reading and expressing themselves through creative writing is instilled at a young age in CHP's students.
Some of the more complex social skills that children are introduced to fundamentally include taking risks in forming opinions, trying out an unfamiliar activity, and taking part in thoughtful discussions involving small or large groups. Students also learn an appreciation and awareness of the similarities and differences among people, cultures, nature, and animals. Academically, children in our Early Education classes are taught the meaning of numerals and numeral concepts, so that they may grasp mathematical functions like measurement, graphing, identifying patterns, sorting, adding, and subtracting.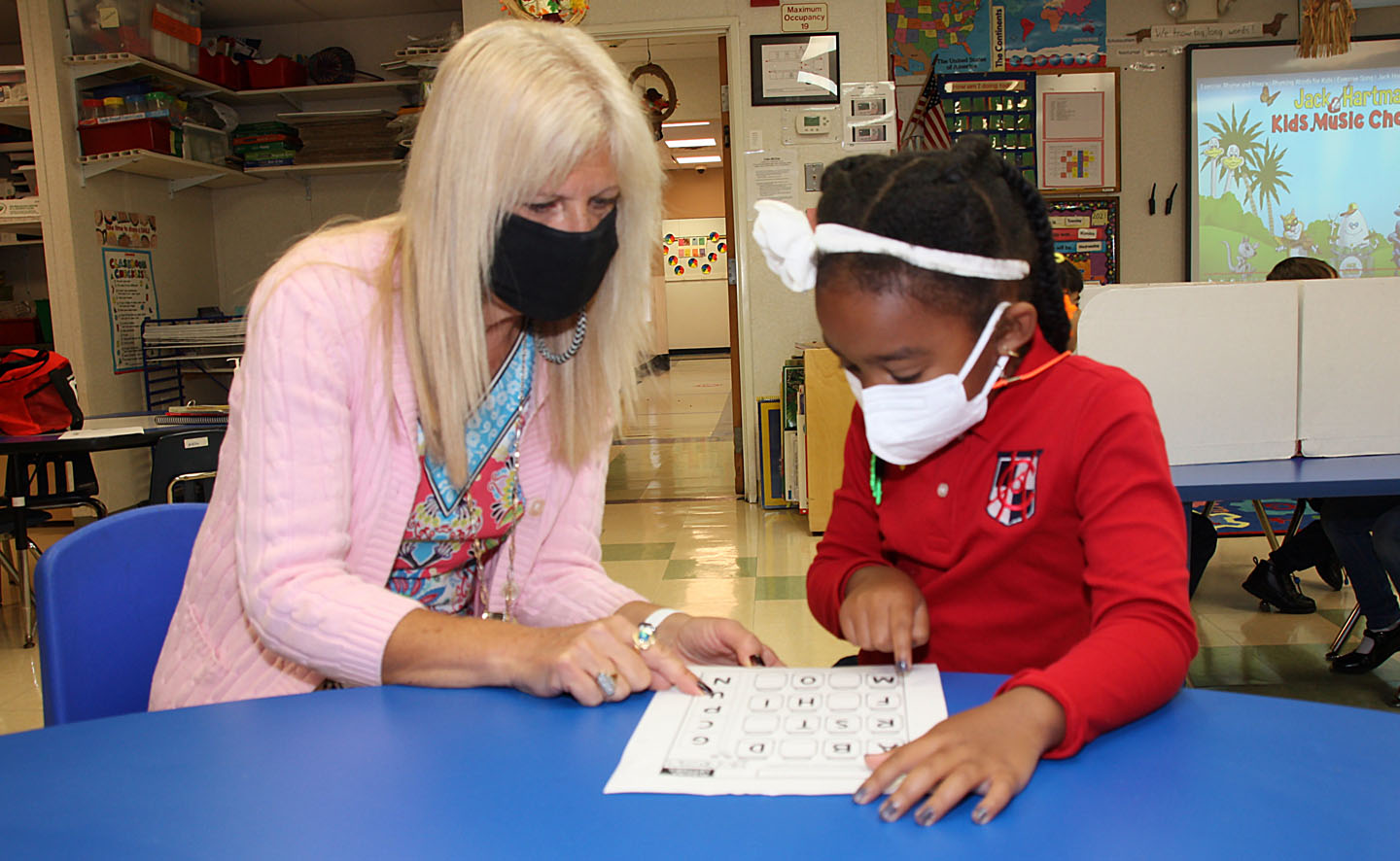 Read on to find out more about how Cedar Hill Prep's instructors take a hands-on approach to teaching in order to focus on executive skills that encourage independent thinking. CHP prides itself on an open trusting environment where each child is encouraged to question and contribute. In this way, all of our students become ready to learn.
Let's discuss the aspects of class that remain immovable despite the national circumstances.
Ruth: I feel that in Kindergarten we had virtual and also in-school children. Both Miss Selner and I teach both classes. We have a homeroom, but we split the subjects. So in Kindergarten I teach social studies, she teaches math and science. But having both virtual and in-school kids it was pretty successful because we had virtual assistant teachers. So their job mainly was to focus on the virtual kids, making sure they're sitting there, doing their work, paying attention. If they had any questions they were free to ask, so they understood everything that was going on. So it brought normalcy to the classroom.

Emily: They definitely helped with the students that were strictly virtual as well because during snack time or downtime those virtual students really bonded with each other. So it was nice to see that not only did our in-school students have the bond, but the virtual students had the bond as well. I know that was a concern going into the year, that they would feel left out, but the virtual assistants really helped with everything.

Maszarine: Children are resilient and can easily adapt to situations. The students are young and they don't know how school was pre-pandemic because they have just started. They didn't feel like they were lacking or missing anything. They still talked and played like any 4- or 5-year-old would. The only difference was that they had to have a little more distance than they would have in the past. The virtual students still felt like they were a part of the classroom and were able to easily communicate with the teacher and their classmates.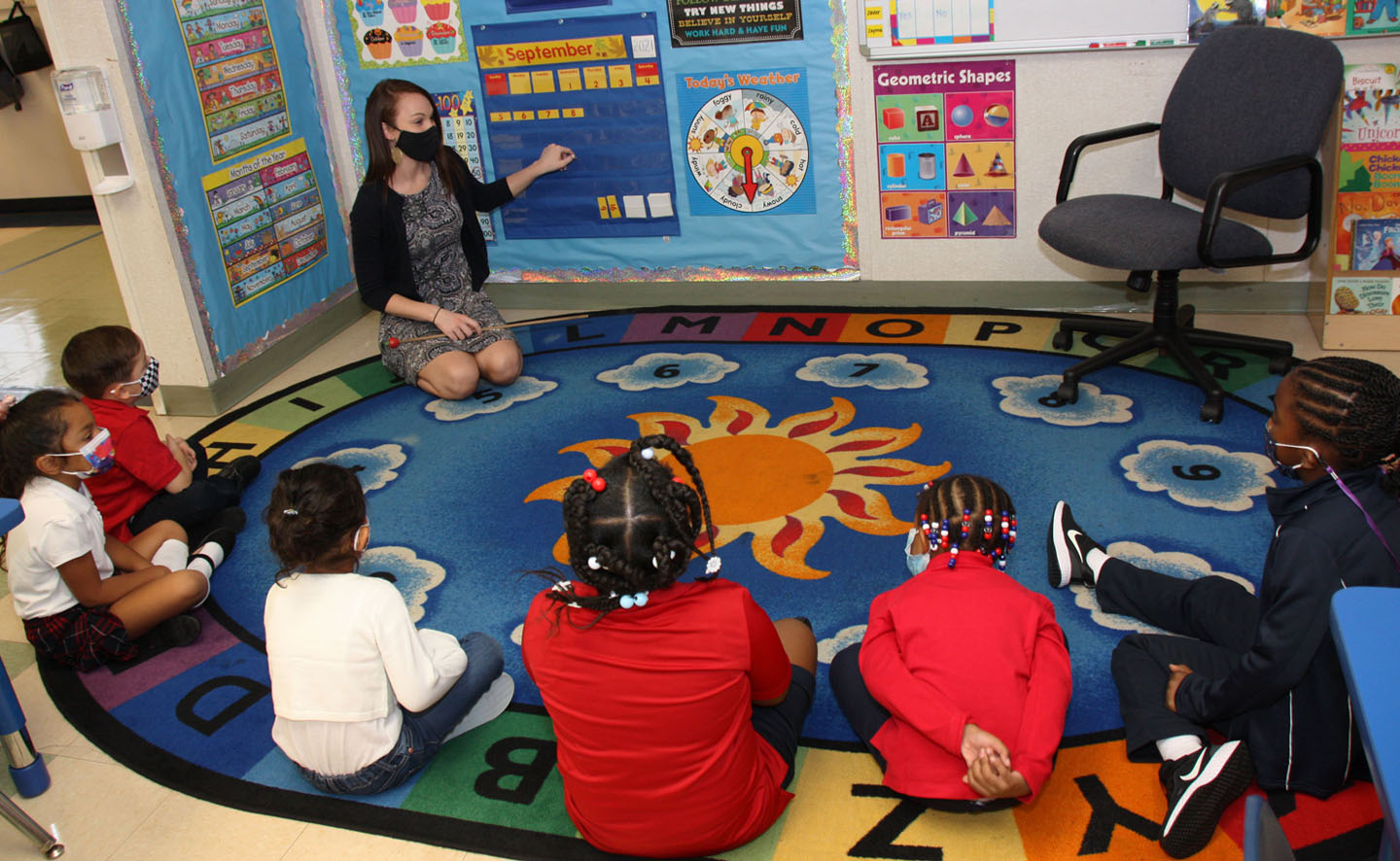 So it became kind of a little village in itself. That's really great! Did you see a similar experience in preschool?
Karen: It's different in preschool. Routine is key for preschoolers. They have to know what to expect and what to do so they become independent. We let them do things on their own. I explain to the parents, if you want to teach the kids at home don't do it for them. Let them do it. Do it when you have time. Like putting on a jacket, do it when you have time because if you get frustrated, they get frustrated. The biggest thing that we love to hear in school is "I did it!" The kids light up, we're so excited for them, they're proud of each other because they were able to accomplish something.

By having the same routine over and over again they get to know what to expect. There's no guesses. The classwork that we do is routine. We do it everyday. We sing the same songs, especially in the morning. Morning routine is the same thing. They have jobs which make them gain independence. We keep a calendar. So all of our morning routines are the same and by the end of the year I ask the kids to run the classroom. They're 3 and 4 and they can do it. It's awesome! I see the biggest growth in my kids. I'm sure all the teachers say the same thing, but the little ones coming in crying, behind their mothers' and fathers' legs and then at the end not even saying goodbye to them because they just feel so comfortable in school and it's just a great experience. Routine independence is key and then everything else falls in place.

Maszarine: Despite the circumstances the children still were able to learn and socialize. They were still able to have many of the same experiences in the classroom, but some things were just done differently to keep everyone safe. Even events such as the science fair or poetry day we were able to have parents come into our classroom virtually. We were still able to give the students a fun and safe experience in the classroom.
Are there tasks within the classroom that are shared and different students are charged with on a week to week basis?
Ruth: We have jobs and so each child would have a job for that week and then we rotate and the next week each child had a different job. We didn't do it this past year, but I'm looking forward to doing it this year because we can do it. The virtual students don't travel with us outside for recess, they have their own recess. So a door holder, they can have that job, a line leader, they can have that job. We can figure out something that the virtual kids can do at home that they can help us with. But we did have a Student Star and both virtual and in-school kids participated in that. Basically each child is given a week so we brought that normalcy back as well. They get to talk about themselves, show pictures of their families. Their pictures get posted all week in the classroom and if they were virtual they put it right by their desk so we could see their pictures as well. It made them feel important!

Then we'd read on Wednesdays the child's favorite book. If the virtual kids wanted to drop off a favorite book we read it and then we sent it back home again, or if they wanted to choose one of mine that was fine too. On Fridays was Trinkets & Treasures, which is basically that one child's Show and Tell. So whether it's in-school or virtual, they would be on the whole screen and they'd be sharing their toys and the kids would listen. It's just a very joyous thing and it brought them together as well. So there's lots of things that we learned that we didn't have to do without. Everybody participated.
That's excellent. It really is a full five day celebration of them as an individual.
Ruth: Yes. They wear a crown too!

Emily: They're always so excited about it, asking, "Who's going to be Student Star next week?" They can't wait. They look forward to it. Even if it's not their own special week, they can't wait to find out about their friends.

Ruth: We have very sweet, very kind kids who support each other and make each other feel good. If a child is upset you can see the empathy from the other kids.

There is a certain focus on the idea that when students come here there's this home that they can be a part of up through Eighth Grade. There's a notion of "see how these kids grow", but it's so interesting that you get to see the kids at that entry level, if you will, and you're seeing them take those first steps on the beginning of this decade long journey.

Karen: We try to make it a family so they feel so comfortable here. We're involved with the families too, it's not just having the student in the classroom. We work as a team with the parents. I like to get to know the parents. Unfortunately, last year we couldn't have the parents come in, but somehow I still got to know them. There was one parent who called me last summer who was concerned that it was her son's first time coming to school and that she was just going to drop her son off and not know where he was going. So the day before school started we had the parents come join us on Zoom. We talked to the parents, we didn't have masks and the kids were there, so at least they saw us without our masks. They only had one day where they saw who we were, but we like to get involved with the parents. I send communication out every single day. So about 1:20 I send a Constant Contact message and it will talk about what we did that day, what they learned, what stories we read, who had a job, what we did outside, any reminders, and then I would send pictures.

A lot of times we would do our arts and crafts independently on the wall, but the parents weren't allowed to come inside. So I would take pictures of them doing the crafts so they have an idea of what the kids do. When the parents pick up their child at the end of the day and they say, "How was your day? What did you do?" and the kid says, "Nothing," they can strike up a conversation. "I heard you did this!" So that's important for the kids to be able to talk to the parents. We couldn't celebrate birthdays like we did in the past so I would invite the parents as a surprise to come in on Zoom and join us at quarter to one, which is our storytime, so the parents would come and surprise their child with a favorite story. We would take pictures. I had a picture of a cupcake and I sent it home to all the kids. They had to color and write a little something and that day I took pictures of the child wearing a crown, everyone singing "Happy Birthday", of the parents reading and then I put a booklet together. So that went home to each child for their birthday. Even though we weren't allowed to celebrate in school we did something special for their special day. It's a family affair. We get involved with the parents even out of school, there are some parents that we're close with who we'll see out of school and it makes it a nice family environment.

Maszarine: We adapted virtually by being creative and thinking outside of the box. Many of the things we did to distance the students were trial and error. Throughout the school year, we found out what worked best for our age group. Also, I think we changed our schedule to ensure the virtual children always felt included.

Ruth: In Kindergarten we celebrated everyone's birthday and our kids made cupcakes. Even the parent, we sing to the parent too! One really cool thing about preschool through Kindergarten is that these kids, let's say they've entered Kindergarten, will stop off in preschool for stamps and then pre-Kindergarten, and then they'll come to class!

Karen: It's nice for them. It's nice for the parents to know that their child is safe and in a supportive environment. It gives parents peace of mind.

Ruth: These kids get upset when it's the weekend because they want to come to school! So it's a good feeling.

Karen: The kids know when we're doing classwork, when to be silly, and when to stop, which is important. We also have a science fair, even the little kids they'll make something. We talk about the four seasons all through the year. We sing songs, we do projects. When it's time for our science fair my class always picks a season then they'll make a diorama. It's really cute. I tell the parents to join in. It's a joint venture for everybody. I tell them don't buy anything. Look outside for twigs, grass, salt for sand. Be creative. But let the kids do it and you can see that they do let the kids do it. They help, but mainly the kids are doing it. We do that. He have concerts.

Ruth: It was really nice that the virtual kids were able to come to our spring concert. They were outside and they were so excited and it was so good to see them. It was really nice that we all were able to come together.
What does the mentorship program between the younger and older students look like?
Karen: For my little ones on Read Across America Day we'll have the third graders come and read aloud. We did it last year too, but it was on Zoom. So the reader was on Zoom and my kids were watching on a screen. Normally, they'll pair up. They're wearing the hat and one of the older kids is reading one of the Dr. Seuss stories. So that's basically what we do for the mentorship program.

Ruth: For Kindergarten, it's Fourth Grade. They normally come into our classrooms and they try to do a one on one, depending on how many kids are in Kindergarten and how many are in Fourth Grade at the time. But the kids absolutely love it. They have their hats on and they get very excited. Some of the Kindergarten kids who can read, they'll read to a Fourth Grader, which makes them feel really good too.

Karen: What's special is if you have a Third Grader and their sibling is one of mine so the two can pair together.

Ruth: Middle school kids have also read to us.

Emily: And they'll do it for the hundredth day of school as well, Kindergarten Celebrates the Hundredth Day of School, and we do all kinds of activities. So we'll have Third Grade come as well and help with some of our activities so we celebrate together with them.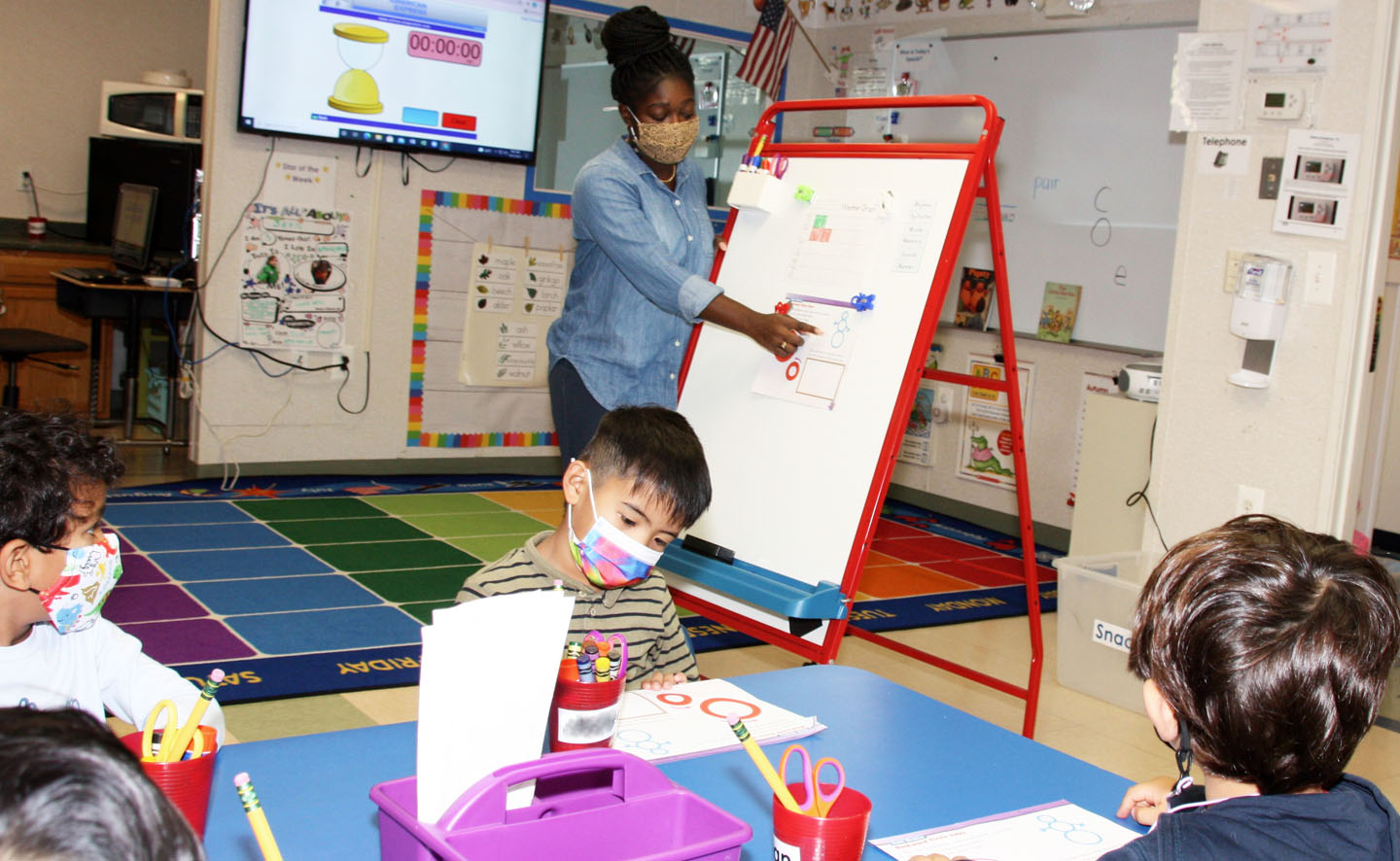 What are the extracurricular activities or club options available to the younger kids?
Karen: In the past we had outsourced Amazing Athletes and things like that and now it's in-house (with Coach Tierney's new Lil' Cats program).

Ruth: Teachers have their own clubs as well. We have the amazing Reading & Writing Club. She has the amazing Art Club.

Emily: Pretty much most days of the week there's something offered that they can join.

Ruth: There's a singing and dancing competition. That's amazing because it's for Kindergarten through Grade Eight. You should see the talent. These kids are not afraid. They're not shy!

Karen: They perform in the gym in front of the whole school.

Ruth: Last year it was only individual performances, we couldn't have group performances, and we did it via Zoom. They sent a video and the judges looked at all the videos and we announced the winners. We put all the first place videos together and we had an assembly virtually and everybody saw the performances. It was pretty cool! So we didn't have to not do it.

Karen: You work with what you have.

Maszarine: My hope is that this year we will be able to have more interaction with the parents. Last year, most of our interaction was through email or Zoom. We missed out on developing relationships with the families. Also, I would like for us to do more things as a class this year. Because of COVID protocols we were not able to do the hands-on group activities that the children love. I would like to see more hands-on activities spotlighted in the classroom this year. In previous years we would make things like snow or Christmas trees out of ice cream cones. These are things we did as a group that the children loved.

Ruth: Brain breaks make it fun while they are learning. The kids need that. They didn't travel to specialist classes. The specialist teachers came to our classroom. So there wasn't much movement within the classroom except for when they went out for recess.

Karen: Lunch was in the classroom. Normally we go to the multipurpose room for lunch. You make do with what you have.

Ruth: And you learn from it.

Karen: You have to be silly.

Ruth: What's great about working with young children is you get to be young too. You get away with being a kid.

Karen: It keeps you young.

Ruth: You have to be animated.

Karen: My kids, I don't know if they're learning auditorily or otherwise, so you have to do everything. Because you never know what they're going to remember or how they're going to remember it. So you have to give it all.

Maszarine: I have worked as an early childhood educator for the past eight years and I love it. For some students, my classroom is their first experience in school, and I like to make sure it is a positive one. I'm giving them the foundation to be successful throughout their academic career. In addition, I love watching my students learn new things and watch their progress throughout the school year.
The entire Early Education team and all of our elementary and middle school teachers, as well as the CHP administration, welcome you and your children back to campus for an exhilarating school year spent together as a unified academic village. We are so excited to have you join us!