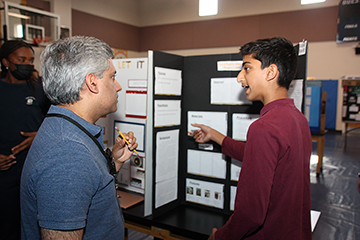 From Tuesday, April 12th to Thursday, April 14th, 2022, Cedar Hill Prep turned the lower school building and the gymnasium into a laboratory where the experiments of students from throughout the school were arranged in a labyrinth of scientific discovery. Tables from one gym wall to the other were each adorned with an elaborate experiment or science project. The students put forth a number of intriguing questions and hypotheses. Among the experiments that were conducted, the CHP students examined the angle of a solar panel as it determines the output of energy; the merits of wind and solar power when deciding on a better energy source; the amount of electromagnetic energy emitted by household objects; the impact of composting on carbon dioxide levels; the effect of different beverages on the calcium in our teeth; the effect of scent on our mood and emotion, and more.
These young scientists posed many fascinating queries to ponder. Which chemical best reduces air temperature? How do floods affect houses? What is the best material for insulation? Can a plastic windmill power a LED? How does salt water affect bridge materials? How do certain circumstances change the way that bacteria grows? 
Many students attempted to answer questions related to science that we might encounter in our daily lives, on a more intimate scale than the bigger questions whose implications reverberate through the scientific community. What is the most durable straw? What kind of music best makes dogs sleep? How do different light bulbs affect the photos of objects? How does temperature affect the bounce of a tennis ball? How does magnetism affect plant growth?
The young scientists of CHP truly brought their thinking caps to the fair, raising important questions and digging deep into the answers to those questions. Far beyond the classic baking soda volcano, these were projects and experiments that cast an eye toward the future. The students of CHP are addressing the hypotheses of tomorrow before they have even come up. One conclusion that there is little question about is that the future is very bright for all of these students.