Somerset County Private Day School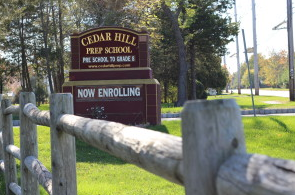 Parents opt for Somerset County private day schools for a number of different reasons. Sometimes a child has special needs. Or maybe they're seeking an accelerated academic environment for a gifted child. Perhaps they are searching a Somerset County private day school that emphasizes religious beliefs. In many cases, parents are simply looking for a more structured learning atmosphere with smaller classes and more careful supervision. Even if a Somerset County private day school offers what parents are looking for, how do they know it's a perfect fit?
Choosing a Somerset County Private Day School
Some things to consider when choosing a school:
Price. Can it fit your budget? Will you be able to get financial aid or scholarship money. Will there be any additional cost such as uniforms, supplies, transportation, and separate academic or boarding fees?
Ask friends, neighbors and educators for recommendations. In some cases, public school administrators or teachers are familiar with Somerset County private day schools. Ask them for an opinion. If you have friends with children at a Somerset County private day school, ask them for recommendations.
Program. Do you want a rigorous academic program? Or perhaps you would like a certain emphasis, like in the arts or music. Maybe you want a nurturing, warm environment. Make a list of qualities and then seek them out.
Year round versus standard school year. Maybe you want a Somerset County private day school that offers year round school. Students typically get the same number of days off during the year as in a traditional school year with breaks given throughout the year.
Schedule a visit and tour. Meet the teachers, the administrators and the students. Check out the facility.
Look at class size and compare with the public schools in your area. Look at their statistics. Most of this information is available on the school's websites.
Check out the credentials of the teachers. Do they have specialized degrees in their areas, such as math or chemistry? How long have the teachers been on staff? Also check into the principal or headmaster/headmistress. What are his or her qualifications, and how long has he or she been there?
Ask specific questions about the curriculum. What books do they use? What is the focus? How much homework will your child be expected to do on a daily basis? Inquire about test scores. What standardized tests are taken and how do the school's scores compare to national standards. Also, where do these children go after leaving the school? Do they have problems getting into their schools/colleges of their choice?
Ask about their grading system. How many tests are there per week on the average? What is the test taking policy. Will they have entrance and/or exit exams?
Ask how discipline is handled. Is it time out, visits to the principal or extra assignments? As you tour the Somerset County private day school, look at the behavior in the classroom. Is it under control or out of hand? Do the students appear interested or bored?
Ask about clubs, sports teams and enrichment classes to join. Request a list of opportunities for the child.
Ask for the level of parental involvement. Is it hands-on in the classroom? Will you feel welcome at the school? Is there a parent-teacher organization, and what activities does the group perform?
You want to be as hands-on with your choice as possible to ensure that both you and your child are happy with your academic choice. Never be afraid of asking too many questions.
Looking for a Great Somerset County Private Day School?
Cedar Hill Preparatory School is a Somerset County private day school that believes all children are gifted. However, the makeup of the Educational Environment is key to harnessing each child's special gift. We feel children learn best in a safe, caring and nurturing environment that fosters partnerships between the family and the school. We aim to provide a diverse environment, abundant space and stimulating activities as we strive to empower children to reach their unique potential socially, physically, intellectually, and emotionally. We have a variety of students from the Central NJ area from towns including: Somerset, Hillsborough, Warren, North Brunswick, Piscataway, Edison, Princeton, Highland Park, and many more. For more information on this Somerset County private day school, you can call at (732)356-5400 or visit the website.